My friend Conor McDonough is a ferociously smart Dominican. It is Christian Unity week and so, he recently asked me and a bunch of his friends who are not in communion with Rome, what our traditions made of 2 Corinthians 5:14-20, which is the passage of Scripture we are all meant to reflect on this week. Paul tells the Christians in Corinth that God has given "us the ministry of reconciliation" which prompted Conor to ask:
So, a question for my Orthodox and Protestant friends: what does this phrase mean in your traditions, and what does the ministry of reconciliation look like today in your communities?
I can't speak for the entire Reformed tradition, but I can allude to the two major figures in our family tree. John Calvin declares in his commentary that "Here we have an illustrious designation of the gospel, as being an embassy for reconciling men to God." In unpacking this verse, it is clear that Calvin reads it as a message to the leaders of churches. "Ministers are furnished with this commission" and "when, therefore, a duly ordained minister proclaims in the gospel, that God has been made propitious to us, he is to be listened to just as an ambassador of God."
In the context of church unity it is important to note that already, a generation into the Reformation, its key intellectual leader no longer feels a need to justify his (or his readership's) status as a minister of God. Once they made the break, they broke.
Karl Barth takes up a similar note in Church Dogmatics (§19 is where I'm focused but the other references all sync closely to what I write here), where he considers what can be discerned about the apostolic vocation from this passage. Barth doesn't read it as a message directed to leaders in particular, but to every Christian who might have business sharing the good news (all Christians, for old Karl). The reconciliation accomplished in Jesus Christ is one side of a coin, the other side is our ministry of reconciliation. So, for Barth, when a Christian proclaims the Gospel – which at base must be concerned with the gracious and costly redemption of humanity achieved by Jesus – their words have potency only to the extent that the Spirit speaks through us.
Admittedly this is a very brief overview of only two figures, but it is probably extensible across Reformed thinking generally: this text is read as being about soteriology. Verse 14 talks of Christ's love and his sacrifice, which continues into verse 15. Verse 16 describes the epistemological transformation that follows from conversion. Verse 17 stretches that subjective transformation out to the objective, eschatological hope that we all await. So when Calvin and Barth reach verse 18, their Presbyterian DNA is exposed, as they see it as a reminder that whatever authority a Christian teacher might have is always rooted in God's graciousness.
How does that answer Conor's question? I think that it presses Presbyterians to remember the precarity of our ecclesial position. By our own lights we are meant to be temporary. We cannot assume that our generation still has reason to exist because the previous generation did. We are not authorised to engage in this ministry of reconciliation through our good intentions, impeccable logic, or the achievements of our forefathers and mothers. Our tradition, both in broad theological brushstrokes and detailed historical detail, emerged as a corrective for a church that had, in many ways, gone down several dead-ends. "Back to the sources!", they shouted in Geneva. "Reject no light!", they declared. But they maintained their commitment to the church catholic. In the Scriptures or in the Patristic mothers and fathers, no church outside that universal church can be found, and the desire to see that universal church in unity should be perpetually stoked.
But if unity is to flourish, it will blossom from Jesus. This is both a challenge to the Presbyterians like me who relish praying with other Christians and a comfort to the Presbyterians who can be commonly found around Ireland who are hesitant to enter into church unity activities. It is a challenge to me because no ecclesial creativity can generate unity. It is a comfort to my friends who are more exclusionary because they have no need to fear a slippery slope of manipulation. The ministry of reconciliation we are charged with in verse 18 is embedded inside such a payload of phenomenally explosive, Christ-centred theology, that we can never imagine that making the church one is a human act. We can do a bang-up job of shattering church unity on our own, but we need the Spirit if it is to be repaired. God's reconciling action is always prior to our efforts.
So that is a quick attempt to answer the first part of Conor's question. For Presbyterians, the reconciliatory meaning of 2 Cor 5:14-20 is, unsurprisingly, that God is radically sovereign and free, rampantly gracious, and utterly trustworthy when it comes to making peace. He makes peace with us and that makes us peacemakers on his behalf, but never on our own authority.
It leaves the last part of Conor's question unanswered. My honest sense – admittedly from a few hundred miles away in north east Scotland – is that the ministry of reconciliation, from a church unity perspective, is only embraced in patches. There remain many in the Presbyterian Church in Ireland who are fearful of church unity efforts. There is a vocal margin that actively suspect that ecumenicism is a watering-down of Gospel clarity. They argue, with strong reasoning, that many of the dead-ends of the Reformation era have not been renovated and now we have Protestant liberalism to battle with as well. Then there is a bigger slice of ministers and leaders so busy with keeping things ticking over that they never have the time to reflect on and prayerfully commit to church unity. They are inclined, instinctively, towards embracing their brothers and sisters from other traditions but they have hospital chaplaincy duties and funerals, youth groups on Tuesday and homegroups on Wednesday and Presbytery duties on Thursday and on and on until they collapse on Sunday night exhausted and baffled at how so beautiful a job as ministry ends up being so bitty. Then there are people and places where church unity is taken very seriously. Steve Stockman at Fitzroy is an obvious example, as is Keith McCrory in Maynooth.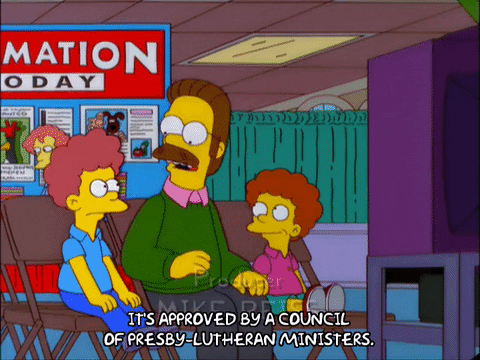 The nature of the Presbyterian church structure means that there is unlikely to be a centralised, unified, solitary approach to unity anytime soon. I recognise that that appears ludicrous on the surface. We have designed it so that we can have no structural unity on the question of unity! There is no Presby-Lutheran council who can approve a particular approach to ending/healing/completing [delete where appropriate] the Reformation. But there is a beautiful theological commitment hidden in that stubborn stance. Unity will come about, maybe faster than we dare to believe. And when it does happen, we won't be able to claim any credit for it.
Your Correspondent, It's like words are his second language